Bespoke Tour 2019 Northern Spain + Portugal + Madrid
Basque Country – Cantabria – Asturias – Galicia – Portugal – Cáceres/Mérida – Madrid 10-15 days
Day 1:
9:00 – 9:30 Departure from Bilbao towards Guernica town.
Gernika: Visit to the Meeting Room in Town hall, then Guernica tree. Finally we can visit Peace Museum.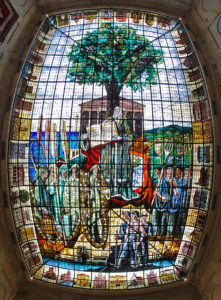 On Mondays it´s highly recommended to visit the market, where products from the orchard are sold.
Oma Forest – Lekeitio – Bermeo – San Juan de Gaztelugatxe.
Food in the area. (We will advise you two places to eat every day, and also two restaurants for dinner).
Portugalete: Bridge
Butron: (castle)
Final day at Bilbao hotel.
Day 2:
 Bilbao – Durango.
Durango: Arch of Santana, Old Town, Town Hall, The Cross Terminal of Kurutziaga.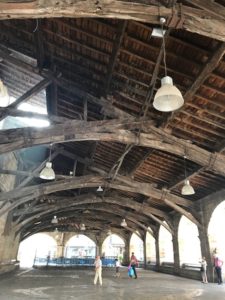 Elorrio:  Stately villa. House of Jara (Berriotxoa Street), Arabo Palace.
Oñati: Basque University, Urban Area, Plaza de los fueros, Town Hall, Lazarriaga Palace, Santa Ana Convent.
Highly recommended visit to the sanctuary of Our Lady of Arantzazu.
Lunch in Oñati and departure to San Sebastián.
San Sebastián: Viewpoint of Monte Igueldo, Plaza del Funicular, Peine de los Vientos, Parte Vieja, Basílica Santa María, Centro, Plaza Constitución.
For me, the most beautiful thing about San Sebastian is to walk or sit on a bench on the Paseo de la Concha, and enjoy the pintxos in its bars and taverns.
We end the day in your hotel in Bilbao.
Day 3
 Bilbao – Santander
Santander: Cross Santander, or short visit to the Lighthouse, and Magdalena Palace (outside) on the tourists train.
Santander – Santillana del Mar.
Santillana del Mar: Unforgettable visit to this unique village, which has remained unchanged since the 18th century.
Later visit to the replica of the Altamira Cave.
Santillana del Mar – Comillas:
Visit to the Capricho de Gaudí, the Palace of Sobrellano and a quick view of the old cemetery. ( that keeps a curious history to discover….)
Food in the area. or continue to Cangas de Onís.
Cangas de Onís: Visit to the Sanctuary, including Basilica and Covadonga cave.
A fast stop in Ribadesella. (santa Marina)
Final in hotel in Gijón.
Day 4
Gijón:
Visit to the city. Cerro de Sta. Catalina, Laboral, city of culture, etc…
Visit to the seaside village of Luanco .
Luanco: Historical centre, and  Peñas Cape.
having lunch in Luanco or around.
Oviedo:
Visit to the cathedral  with audioguide and the old part of the city, visit to the pre-Romanesque monuments.  final day at your hotel in Gijón.
Day 5
9:00- 10:00 am Departure to Santiago de Compostela.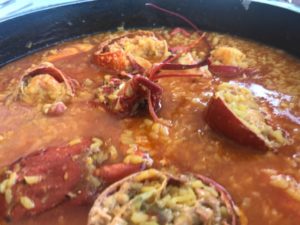 Cudillero: Visit this picturesque fishing village.
We continue to make short stops at: Cabo Vidio – Playa del Silencio – Ribadeo.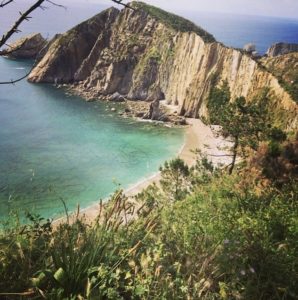 Lunch in Rinlo (A cofradia, speciality: lobster + rice)
Lugo: Visit to the walls, old town, Cathedral and continue to Santiago de Compostela.
19:00 Arrival at the hotel in Santiago de Compostela.
Day 6
11:00 departure towards Finisterre.
We continue to the Ezaro Waterfalls. This is the only river in Europe that cascades directly falls into the sea.
visit to La Coruña: Hercules Tower. Viewpoint of San Pedro. and food in the city.
Arrival in Santiago around 17:00 to enjoy Santiago de Compostela
Day 7
 Santiago de Compostela – Tuy – Valenca do Miño- La guardia – Viana do Castelo
9:30 We start our journey from Compostela and cross to Portugal to visit Valenca Do Miño fortress.
Having lunch in the area.
17:00 Arrival at Viana do Castelo. Tour around the centre and finish at the hotel:
Recommended hotel: Pousada Viana do Castelo:
Day 8 
Viana Do Castelo – Braga – Guimaraes – Viana Do Castelo
9:30 Departure from the Posada towards Braga to visit the BOM JESUS DO MONTE Sanctuary.
10:40 Arrival at the Sanctuary.  Ascent and descent by funicular railway.
Food: We can choose  Braga or Guimaraes towns to have lunch.
In Guimaraes we have the Fentelhas Restaurant, for me the best codfish restaurant in Portugal.
In Guimaraes after lunch we visit the Palace of the Dukes of Braganca and the Castle.
17:00 – 18:00 Return to the hotel in Viana do Castelo
Day 9 
Viana do Castelo – Oporto
9:30 Pick up at Viana Do Castelo Hotel to go to Oporto.
Recommended hotel Pestana Palacio do Freixo, it isn´t centrally located, but it is a beautiful palace.
After leaving luggage at the hotel and checkin we´ll visiting  the Se (cathedral in Portuguese)  Palace of the stock exchange and the riverbank on foot from the parking lot of the stock exchange.
Day 10
Oporto:
Lello and Irmao Bookstore – Clerigos Church and Tower – San Bento Station. In addition to the funicular railway we can not miss the visit to one of the wineries of Porto in Villanova de Gaia as Ferreira Winery or also Sandeman.
Day 11
Porto – Aveiro – Figueira da Foz – Lisbon
9:30 Departure from Oporto towards Aveiro.
10:30 Arrival in Aveiro "Portuguese Venice".
Praia da Costa Nova: Famous for its picturesque striped painted houses. In the main street you can see these colorful houses.
We continue to Fatima This is a place of worship, the most important in Portugal, dedicated to Our Lady of Fatima. :
Fatima – Lisbon.
We´ll be ending our day trip in Lisboa´s hotel.
Day 12
Lisbon is not cars friendly. There are several places to visit. Some on foot, some by car.
Tower of Belem / Castle of San Jorge / Monastery of the Jeronimos of Belem / Church of Sao Roque / Santa justa elevator / Bridge 25 April / Palace of Queluz / Lisbon Cathedral / Arch of Rua Augusta / Palace of the Marquises of Fronteira.
Day 13
Lisbon – Cascais:
City centre.
Estoril: 
City centre of the city
 Nazareth: Food in Nazareth
After lunch visit to the Tower of Belem.
and final day trip in Lisbon.
Day 14
 Lisbon – Cáceres:
Cáceres: Old area and/or follow to
 Merida: Roman Amphitheater
Final tour in Madrid.
Terms and Conditions (provision of services).
Along the whole travel the client will be accompanied by the private driver, who is aware of the area and its touristic resources and places of interest to visit. The private driver will be at your side -as accompanying person- in the touristic visits if required so. Your private driver will take you to the nearest place available from the place to visit and will be ready at the ending of the visit to take the client again -as soon as possible- in order to maximize the use of the time in your holidays. Your private driver will assist you when booking in a restaurant or a hotel, getting tickets for places to visit and other interesting activities (out of those previously acquired). Your private driver will assist you with your luggage, at the beginning and at the end of each journey, and will provide you with specific information for your safety to avoid robbers and thieves, or any other necessary information that will improve your calm and enjoyment. Your private driver -within reasonable boundaries- will take care of the safety of the clients when present.
Drivers are NOT official tourist guides, but they are educated about those places to visit and will be able to provide you the cultural information surrounding those places. This will be done before the visit, as Spanish Law do forbid that non official guides will provide such information in those places.
Cancellation policy  about car driver and car contracting.
(Does not apply in  our partners hotel contracting)
Full refunds issued for cancellations made 7 full days prior to the date and time of requested services. Cancellations made within the 7-day and 72-hour window will receive a 50% refund of purchase total. Purchases are non-refundable inside of 72 hours.
Do you want more information about this tour?